Wolftank Group's CEO Peter Werth is set to participate in the Austria Connect China 2023 event on 20 October in Chengdu. From 11:30 to 12:45 h (GMT +8h), he will join the panel discussion on "China and the world", moderated by Michael Berger.
With Wolftank Group's extensive experience in China, backed by its Wolftank Shanghai team established in 2017, Peter Werth contributes to the dialogues surrounding the challenges and opportunities of the past few years, and strategies to rebuild and enhance relationships moving forward.
The Austria Connect China conference is the largest Austrian business event in the Asian country. Hosted by Advantage Austria, Austria's official foreign trade promotion organization, the event is facilitated through the Commercial Sections of the Austrian Embassy and Consulates General in China.
Further details are available on
https://www.advantageaustria.org/cn/events/Programme_AUSTRIA_CONNECT_China_2023_en_.pdf
Event overview:
What: Austria Connect China 2023. Panel "China and the world"
Where: St. Regis, Chengdu, China
Date: 20 October 2023
Time: from 11:30 to 12:45 h (GMT +8h)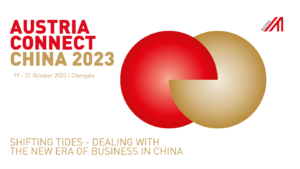 Austria Connect China 2023.